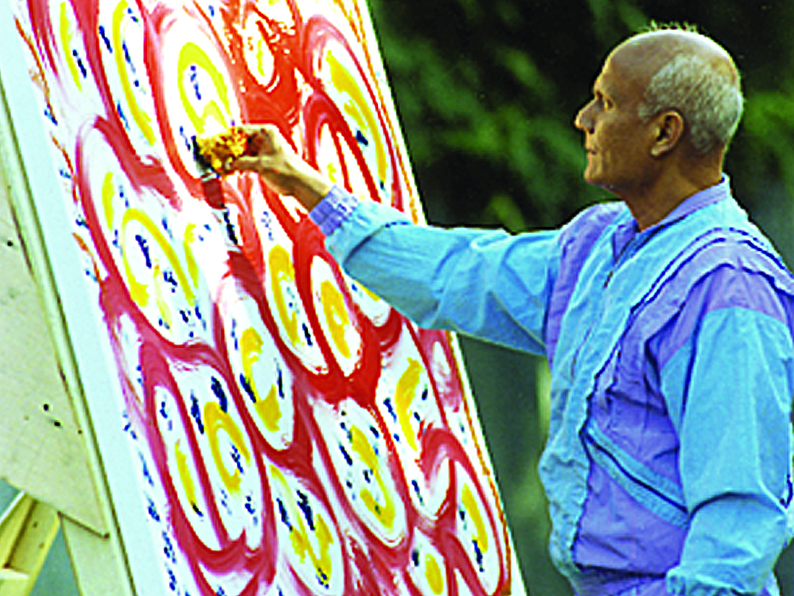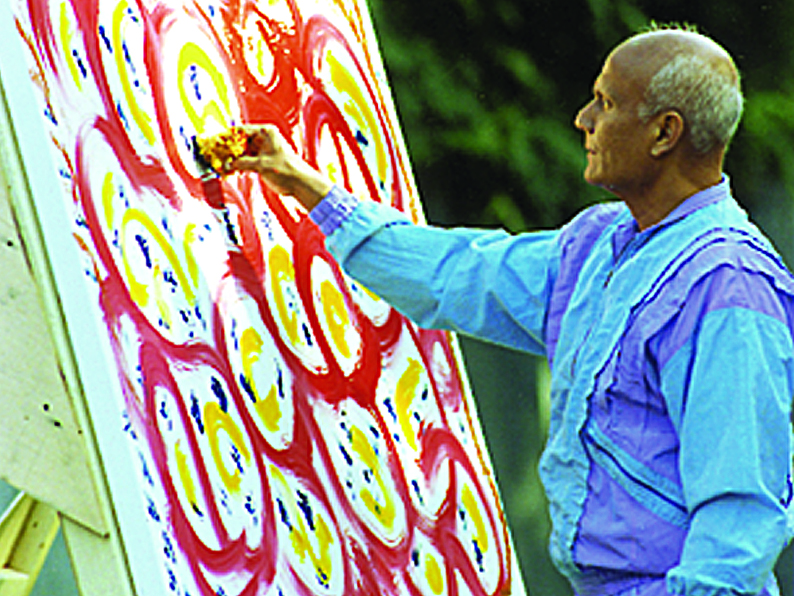 Sri Chinmoy's style of painting is very spontaneous and unique. Using a variety of sponges, brushes and even his own hand, his artworks are a bold fusion of vibrant colours. He paints at a rapid yet unhurried pace. When painting, Sri Chinmoy (1931- 2007) says he enters a meditative consciousness. He does not use his mind or think about what to paint. The art of Sri Chinmoy has been displayed in many prestigious galleries across the world including The Carrousel du Louvre, The Mall Gallery in London, The National Gallery in Ottawa and the Australian Parliament House in Canberra. A visit to an exhibition of Sri Chinmoy's paintings can be an extremely fulfilling meditative experience – each painting has its own uniqueness and has a capacity to absorb the viewer in the painting.
In addition, Sri Chinmoy developed a very unique style of "Soul Bird" drawings – sketches of birds symbolising our own soul's yearning for freedom. These simple but beautiful birds are created very quickly with a few strokes of a pen or marker. Sometimes Sri Chinmoy drew just one on a page, other occasions he drew a family of several birds together.  Sometimes he would draw 'birdscapes' – hundreds or thousands of birds on a single page. His canvas was not just limited to paper – he would draw on fabric, or decorate objects such as plates, mirrors, ornaments and toys with bird drawings. Sri Chinmoy obtained tremendous satisfaction from drawing these birds. Often when signing his name or composing a letter he would add an individual bird. Speaking on the significance of birds in his art, Sri Chinmoy writes,
"For me, birds have a very special significance on a spiritual level. They fly in the sky, and the sky is all freedom. So when the birds fly in the sky, they remind me of the soul's infinite freedom. The soul has come from Heaven. When we think of birds, we are also reminded of our Source, and this gives us enormous joy."

– Sri Chinmoy
Sri Chinmoy began painting on November 19th, 1974.  He was staying in a hotel room in Ottawa, Canada when he felt inspired from within to purchase some paper and crayons. His first picture was a simple rose but from these humble beginnings, Sri Chinmoy immersed himself in his new found project, completing thousands of new paintings in the following year. By October 3rd, 1975, Sri Chinmoy had completed his first 100,000 paintings, and on November 16th , 1975 he painted a remarkable 16,031 paintings in one 24 hour period. In addition, the number of Soul Birds drawn by Sri Chinmoy totalled over 15 million. With regard to his prolific output, some people may say quantity and quality cannot go together but Sri Chinmoy says that there is no reason why quantity cannot be synonymous with quality. As he writes himself.
---
COPRIGHT  © ALL ARTWORK BY SRI CHINMOY / SRI CHINMOY CENTRE